Miracle Makeover Meatloaf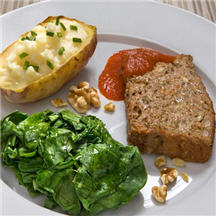 Walnuts, herbs and flavorings spice up the mixture of both white and dark turkey meat for the most succulent meatloaf. There's dinner for 6 and enough for sandwiches the next day in one meatloaf or you can divide the mixture into 4 small loaves as it freezes well.
Recipe Ingredients:
2 tablespoons extra virgin olive oil
1 large onion, finely minced
1 rib celery, minced
1 carrot, peeled and grated
2 cloves garlic, minced
1 tablespoon dried thyme
1 teaspoon kosher salt
1/2 teaspoon freshly ground black pepper
1/4 teaspoon red pepper flakes
1 cup fresh, whole wheat bread crumbs
1/2 cup skim milk
1 whole large egg plus 1 large egg white, beaten
1 cup finely chopped California walnuts
1/4 cup chopped fresh parsley
3 tablespoons tomato ketchup
1 tablespoon Worcestershire sauce
1 1/2 pounds ground turkey meat
Tomato ketchup, for brushing the pan
Red Bell Pepper and Tomato Sauce (see recipe below)
Parsley sprigs for garnish

Red Bell Pepper and Tomato Sauce
2 large red bell peppers, roasted, peeled and chopped
1 (28-ounce) can organic tomato sauce
Salt and pepper to taste
1/4 teaspoon red pepper flakes
Cooking Directions:
Preheat the oven to 350°F (175°C).
In a skillet, heat the oil over medium heat. Add the onion and cook, stirring occasionally, until translucent, about 4 minutes. Add the celery, carrot, garlic, thyme, salt, pepper and red pepper flakes; cook, stirring occasionally, until soft and tender, about 5 minutes. Set aside and allow to cool.
In a medium bowl, combine the bread crumbs and milk; let sit for 10 minutes. Add the egg and egg white; mix well. Add the walnuts, parsley, ketchup and Worcestershire sauce; mix well. Add the cooked vegetable mixture and turkey; using one hand, mix and squeeze together, to combine well. Don't over mix or the meatloaf will be tough.
Brush a nonstick or glass 9x5x4-inch loaf pan with ketchup. Gently press the meatloaf mixture into the pan, then place the loaf pan into a shallow cookie sheet to catch any drippings in the oven. Bake until a thermometer inserted into the middle reads 165°F (75°C), about 1 hour. Let sit for 10 minutes before serving.
To make the sauce, while the meatloaf is cooking, place the bell peppers, tomato sauce, salt, pepper and red pepper flakes in a blender; blend until smooth. Transfer to a medium saucepan and heat over low heat until hot, about 5 minutes.
Unmold the meatloaf onto a serving platter and serve with the hot Red Bell Pepper and Tomato Sauce and garnish with parsley sprigs.
Makes 10 servings.
Nutritional Information Per Serving (1/10 of recipe): Calories: 260; Total Fat: 12 g; Saturated Fat: 1.5 g; Monounsaturated Fat: 4 g; Polyunsaturated Fat: 6 g; Trans Fat: 0 g; Cholesterol: 45 mg; Sodium: 740 mg; Total Carbohydrate: 19 g; Dietary Fiber: 4 g; Protein: 23 g.
Recipe and photograph provided courtesy California Walnuts.