Savory Pistachio Meatballs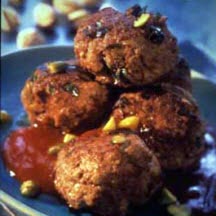 These wonderful pistachio and pork meatballs are served in a tantalizing sauce made with a simple mixture of apricot-pineapple preserves and barbecue sauce.
Recipe Ingredients:
1 pound ground pork*
1 1/2 tablespoons chopped green onion
1/3 cup natural California pistachios, chopped
1 tablespoon sherry
1 large egg, beaten
1/2 cup fresh bread crumbs
1 cup apricot-pineapple preserves
1/3 cup regular barbecue sauce
Cooking Directions:
Combine pork, green onion, pistachios, sherry, egg and crumbs; blend well. Lightly shape into balls 1 inch in diameter.
Place in 15x10-inch baking sheet pan; bake at 400°F (205°C) 15 to 18 minutes or until thoroughly cooked. Drain excess fat.
Combine apricot-pineapple preserves and barbecue sauce; heat to boiling. Pour over meatballs that have been placed in hot serving dish or chafing dish. Serve with cocktail picks.
Makes about 30 to 36 meatballs.
*Mild pork sausage can be substituted.
Recipe provided courtesy of the California Pistachio Commission.