Spaghetti and Chicken Meatballs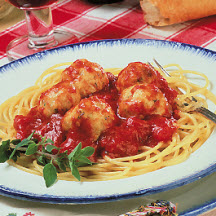 Recipe provided courtesy of the National Chicken Council.
Recipe Ingredients:
1 pound ground chicken
1 large egg
1/2 cup freshly grated Parmesan cheese
1/2 cup dry bread crumbs
2 cloves garlic, minced
2 teaspoons fresh oregano, chopped
1/2 teaspoon salt
2 tablespoons olive oil
1 onion, diced
1 (14-ounce) can tomato sauce
1 (14.5-ounce) can diced tomatoes with Italian-style herbs
1/2 teaspoon salt
1/4 teaspoon freshly ground black pepper
1 cup freshly grated Parmesan cheese
1 (14 to 16-ounce) box spaghetti
Cooking Directions:
Place ground chicken, egg, Parmesan cheese, bread crumbs, garlic, oregano and 1/2 teaspoon salt in large bowl. Knead mixture together with hands until evenly combined. Divide mixture in half; break apart and shape into 1-inch balls.
In large, non-stick skillet, warm olive oil over medium-high heat. Place meatballs in pan, up to eight at a time, and cook until all sides are browned, approximately 5 minutes for each meatball. Remove meatballs from pan with slotted spoon; place on plate.
Reduce heat on stove to medium-low. Add onion; sauté until tender, about 3 minutes Stir in tomato sauce and diced tomatoes.

Simmer mixture for 10 minutes Gently add all meatballs to sauce, cover pan and simmer 20 minutes Sprinkle 1/2 teaspoon of salt and freshly ground black pepper into mixture.
While sauce is cooking, cook spaghetti according to package directions.
Serve meatballs and sauce over cooked spaghetti.
Makes 4 servings.
Recipe and photograph provided courtesy of the National Chicken Council. Used with permission.