Veal Burgers with Sautéed Peppers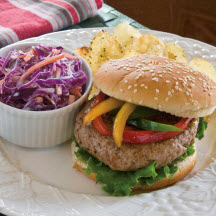 Thick and juicy grilled veal burgers become company fare when served with colorful sautéed bell peppers on toasted rolls.
This recipe is an excellent source of protein, niacin, vitamin B6, vitamin B12, selenium and zinc.
Recipe Ingredients:
1 1/2 pounds ground veal
1 large egg, slightly beaten
3 tablespoons finely chopped onion
1/2 teaspoon coarse grind black pepper
1/2 teaspoon salt
1 1/2 teaspoons vegetable oil
1/2 cup each red, green and yellow bell pepper strips (2 1/4 x 1/4-inch)
Bread or rolls, toasted (optional)
Cooking Directions:
Combine ground veal, egg, onion and pepper in large bowl, mixing lightly but thoroughly. (Mixture will be very moist.) Shape into six 1/2-inch thick patties.
Place patties on grid over medium, ash-covered coals. Grill, uncovered, 10 to 12 minutes, until instant-read thermometer inserted horizontally into center registers 160°F (71.1°C), turning occasionally. Season with 1/2 teaspoon salt.
Meanwhile in 10-inch nonstick skillet, heat oil over medium heat until hot. Add bell peppers; cook and stir 5 minutes or until tender. Stir in 1/4 teaspoon salt. Spoon equal amounts of peppers on burgers. Serve burgers on bread, if desired.
Makes 6 servings.
Tip: To broil, arrange patties on rack in broiler pan so surface of meat is 4 inches from heat. Broil 8 to 10 minutes, until instant-read thermometer inserted horizontally registers 160°F (71.1°C), turning once.
Nutritional Information Per Serving (1/6 of recipe): 178 calories; 9 g fat (3 g saturated fat; 3 g monounsaturated fat); 123 mg cholesterol; 374 mg sodium; 2 g carbohydrate; 0.5 g fiber; 22 g protein; 7.1 mg niacin; 0.4 mg vitamin B6; 1.2 mcg vitamin B12; 1.1 mg iron; 14.4 mcg selenium; 3.4 mg zinc.
Recipe and photograph courtesy of the Veal Committee of the Beef Industry Council.