Chocolate & Fruit Snack Mix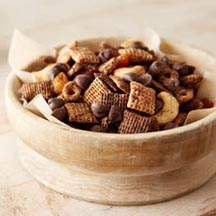 Your family and guests will enjoy this easy and tasty chocolate and fruit snack mix.
Recipe Ingredients:
1/2 cup butter or margarine
2 tablespoons granulated sugar
1 tablespoon HERSHEY'S SPECIAL DARK Cocoa or HERSHEY'S Cocoa
1/2 teaspoon ground cinnamon
3 cups bite-size crisp rice squares cereal
3 cups bite-size crisp wheat squares cereal
2 cups toasted oat cereal rings
1 cup cashews
1 1/2 cups (6-ounce package) dried fruit bits
1 cup HERSHEY'S Semi-Sweet Chocolate Chips
Cooking Directions:
Place butter in 4-quart microwave-safe bowl.
Microwave at HIGH (100%) 1 minute or until melted; stir in sugar, cocoa and cinnamon. Add cereals and cashews; stir until evenly coated.
Microwave at HIGH 3 minutes, stirring each minute; stir in dried fruit.
Microwave at HIGH 3 minutes, stirring each minute.
Cool completely; stir in chocolate chips. Store in tightly covered container in cool, dry place.
Makes about 11 cups mix.
Recipe and photograph courtesy of the Hershey Kitchens, and reprinted with permission of The Hershey Company. © The Hershey Company.