Chocolate Ice Cream Cake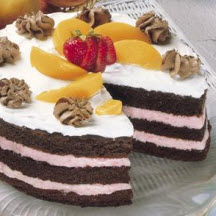 This impressive chocolate ice cream layer cake is as easy to make as it is delicious.
Recipe Ingredients:
2 large eggs, separated
1 1/2 cups granulated sugar - divided use
1 1/4 cups all-purpose flour
1/2 cup HERSHEY'S Cocoa
3/4 teaspoon baking soda
1/2 teaspoon salt
1/2 cup vegetable oil
1 cup buttermilk or sour milk*
Ice Cream Layers (recipe follows)
3/4 cup sweetened whipped cream or non-dairy whipped topping
1/2 cup fresh fruit, sliced
Chocolate Cream Rosettes (recipe follows, optional)
Cooking Directions:
Preheat oven to 350°F (175°C). Grease and flour three 9-inch round baking pans. (If only 2 pans are available, reserve one-third of batter in refrigerator while first 2 layers are baking.)
In small bowl, beat egg whites until foamy; gradually add 1/2 cup sugar, beating until stiff peaks form.
In large bowl, stir together flour, remaining 1 cup sugar, cocoa, baking soda and salt. Add oil, buttermilk and egg yolks; beat until smooth. Gently fold egg white mixture into batter.
Pour about 1 2/3 cups batter into each prepared pan.
Bake 18 to 20 minutes or until cake springs back when touched lightly in center. Cool 5 minutes; remove from pans to wire racks. (Bake remaining layer, if necessary.) Cool completely.
Wrap each layer separately in foil; freeze several hours or several days in advance of serving.
Prepare Ice Cream Layers. Remove cake and Ice Cream Layers from freezer; peel off foil. On serving plate, alternately layer cake and ice cream layers, beginning and ending with cake. Wrap tightly; return to freezer.
Just before serving, frost top of cake with whipped cream. Arrange fruit in decorative design on top; pipe on Chocolate Cream Rosettes, if desired.
Makes 10 to 12 servings.
*To sour milk: Use 1 tablespoon white vinegar plus milk to equal 1 cup.
Ice Cream Layers: Line two 9-inch round layer pans with foil; working quickly, evenly spread 1/2 gallon of your favorite flavor slightly softened ice cream into prepared pans. Cover tightly; freeze until firm.
Chocolate Cream Rosettes: In small mixer bowl, stir together 1/4 cup granulated sugar and 2 tablespoons HERSHEY'S Cocoa. Stir in 1/2 cup cold whipping cream and 1/2 teaspoon vanilla extract. Beat until stiff; spoon into decorating bag fitted with large rosette tip.
Recipe and photograph courtesy of the Hershey Kitchens, and reprinted with permission of The Hershey Company. © The Hershey Company.