Edible Popcorn Party Bowl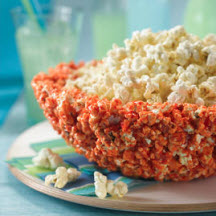 This is a fun project to make with the kids, it has great party presentation — and you can eat, too!
Recipe Ingredients:
10 cups popped popcorn
1 1/3 cups granulated sugar
1 cup water
1/3 cup light corn syrup
1/2 teaspoon distilled white vinegar
1/4 teaspoon salt
10 drops food color (optional)
Cooking Directions:
Spray the inside of a large, stainless steel bowl with cooking spray and the outside of a 2nd large, stainless steel bowl; set aside.

These 2 bowls will be used to form popcorn bowl at end of cooking time. (Note: if one bowl is smaller than the other, spray the outside of the smaller bowl.)

Spray a 3rd large bowl with cooking spray and place popped popcorn inside; set aside.

Stir sugar, water, corn syrup, vinegar and salt together in a medium sauce pan.

Bring mixture to a boil, cover, and boil for 3 minutes to allow steam to wash down sides of pan. Remove lid and attach candy thermometer to pan.

Allow mixture to boil, without stirring, until mixture reaches 290°F (145°C). Stir in food color, if desired.

Working quickly, pour syrup over popcorn and toss with a large spoon until popcorn is thoroughly coated.

Pour popcorn mixture into first prepared bowl and use a spoon to push mixture evenly up onto sides of bowl.

Firmly press second prepared bowl onto popcorn to form popcorn bowl. Allow popcorn bowl to cool completely between stainless steel bowls.

To serve, tip popcorn bowl out and place on platter.

Fill with popcorn to serve.
Makes 1 popcorn bowl.
Recipe and photograph provided courtesy of The Popcorn Board.