Halloween Boo Bats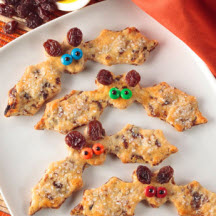 Catch one of these Halloween treats flying by and you can eat it!
Recipe Ingredients:
1 cup all-purpose flour
2 tablespoons powdered sugar
1 teaspoon baking powder
6 tablespoons cold salted butter, cut in small pieces
1 cup California raisins, chopped fine
2 teaspoons vanilla extract
1 large egg
Pinch of salt
1/4 cup coarse-grain sparkling white sugar
California raisins and mini candies* for decorations
3 ounces semi-sweet chocolate
Cooking Directions:
Measure flour, sugar and baking powder into bowl for food processor with steel blade, and pulse a couple of times to combine. (If mixing by hand, see note.) Then, add cold butter and pulse until crumbly. Finally, add vanilla and ice water, a little at a time, and pulse until dough comes together and cleans sides of bowl. Knead in chopped raisins. Divide dough into 2 equal pieces, wrap in plastic wrap or wax paper, and chill for 30 minutes.
Preheat oven to 350°F (175°C). Line baking sheets with parchment; set aside.
One piece at a time, place dough on lightly floured work surface, and roll into 10×12-inch rectangle about 3/8-inch thick. With bat-shaped cookie cutter, cut into 16 cookies. Arrange on cookie sheet close together. Beat egg with pinch of salt and brush lightly onto cookies and sprinkle with coarse sugar.
Bake at 350°F (175°C) for 10 to 12 minutes until golden. Remove to wire.
When cookies have cooled, melt semisweet chocolate and use a small amount to attach raisins for ears and candies as eyes. Cool completely and store in airtight container.
Makes 16 bats.
Recipe and photograph provided courtesy of California Raisin Marketing Board.