Monster Mash Slush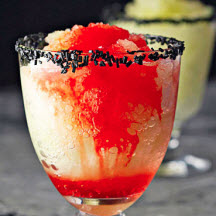 This monstrously flavorful slush is just dripping with spooky character. The tequila-laced frozen mixture of melon and orange takes on the look of a mad scientist's latest experiment when it's doused in bubbling lemon-lime soft drink and drizzled with blood-red grenadine. Coarse black decorating sugar or salt rims the glass with ominous effect.
Recipe Ingredients:
1 orange
1/2 of a medium honeydew melon, seeded, peeled, and cubed (3 cups)
2/3 cup tequila
1/2 cup orange liqueur
4 cups ice cubes
Coarse sugar or black sea salt
1 (16-ounce) bottle lemon-lime carbonated beverage, chilled
2 tablespoons grenadine syrup
Cooking Directions:
Cut orange in half. Cut one half into wedges; wrap and chill overnight. Juice the remaining half; set juice aside.
In a blender combine honeydew melon, tequila, orange liqueur, and the reserved orange juice; cover and blend until smooth. With blender running, add ice cubes, a few at a time, blending until mixture becomes slushy. Pour into a 2-quart freezer container. Cover; freeze overnight.
To serve, rub the reserved orange wedges around rims of eight glasses. Dip rims in coarse sugar or black sea salt to coat; set aside. Using a heavy spoon, scrape frozen mixture; scoop mixture into prepared glasses. Add 1/4 cup of the chilled lemon-lime beverage to each glass. Drizzle with grenadine.
Makes 8 (8-ounce) servings.
Nutritional Information Per Serving (1/8 of recipe): 161 kcal cal., 26mg sodium, 25g carb., 1g fiber, 17g sugar.
Recipe and photograph provided by Better Homes and Gardens - BHG.com a member of the Home and Family Network for the best of cooking, gardening, decorating and more. © Meredith Corporation. All Rights Reserved.