Sea Salted Coffee Toffee Bars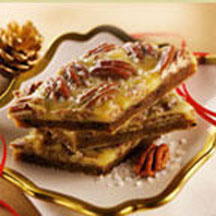 Sweet, salty and crunchy...need more be said?
Recipe Ingredients:
First layer:
1 cup (2 sticks) butter, softened
1 cup dark brown sugar, firmly packed
1/2 teaspoon salt
2 cups all-purpose flour
1 1/2 tablespoons instant coffee crystals
Second layer
1 (14-ounce) can sweetened condensed milk
2 tablespoons butter
2 teaspoons pure vanilla extract or dark rum
1 1/2 cups whole pecans*
1/2 to 1 tablespoon large crystal sea salt
Cooking Directions:
Preheat oven to 350°F (175°C).
In a mixing bowl, beat together butter, brown sugar and salt until light and fluffy. Add flour, 1 cup at a time, stirring between additions. Add instant coffee crystals and blend until well incorporated.
Pat batter into ungreased 13x9x2-inch baking pan in an even layer. Bake until edges are lightly browned and center is puffy, 12 to 15 minutes.
Meanwhile, in heavy saucepan, stir condensed milk and 2 tablespoons butter over low heat until butter melts. The mixture will thicken and become smooth. Stir in vanilla or rum, remove from heat and let sit until bottom layer is done baking.
Sprinkle nuts over baked bottom layer and pour hot condensed milk mixture evenly over nuts using a spatula to spread.
Return to the oven and bake until top is golden and bubbling, 10 to 12 minutes.
Immediately sprinkle desired amount of sea salt over bubbling toffee top.
Cool slightly in pan and cut into bars.
Bars can be kept up to one week in an airtight container.
Makes 18 servings.
*Hazelnuts, almonds or other mixed nuts may be substituted.
Recipe and photograph provided courtesy of Wisconsin Milk Marketing Board, Inc.