Tombstone Trio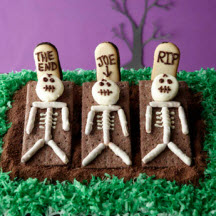 Make no bones about it — these three skeletons are a scarily sweet treat. Create the edible scene with staples found in your grocery store's snack and baking aisles.
Recipe Ingredients:
Large marshmallows
Thick pretzel stick pieces
Melted white baking chocolate
Chocolate frosting
Chocolate graham crackers
Green tinted coconut "grass"
Chocolate-filled butter cookies
Cooking Directions:
For each skeleton, cut a large marshmallow in half forming two rounds. Dip marshmallow rounds and some thick pretzel stick pieces into melted white baking chocolate; place on a baking sheet lined with waxed paper. Chill until set.
Using a pastry bag fitted with a small round tip, pipe chocolate frosting onto marshmallow halves to make skeleton faces.
Pipe a little frosting on a chocolate graham cracker and attach a marshmallow skeleton head. Pipe a little frosting lengthwise onto the undersides of coated pretzel pieces, attaching them to the graham cracker to create a skeleton body. Use some melted white chocolate baking chocolate to pipe ribs onto the skeleton over the spine.
Line a serving platter with green tinted coconut "grass." Sprinkle on crushed chocolate graham crackers as "dirt." Stick the remaining marshmallow halves partly underneath the skeleton-topped graham crackers to prop them up, place on "dirt."
Using chocolate frosting, decorate a chocolate-filled butter cookie as a tombstone. Stick a cookie into each marshmallow half, positioning it as a tombstone.
Makes ? servings.
Recipe and photograph provided by Better Homes and Gardens - BHG.com a member of the Home and Family Network for the best of cooking, gardening, decorating and more. © Meredith Corporation. All Rights Reserved.