California Lamb Ragù Abruzzese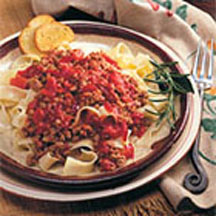 Serve this Italian ground lamb and tomato sauce over pasta or atop bruschetta, or simply as is with crusty bread and a tossed green salad.
Recipe Ingredients:
4 tablespoons extra virgin olive oil
3 large cloves garlic, peeled and well crushed
1 pound coarsely ground lamb meat, preferably shoulder
1 large bay leaf, torn in half
1 (4-inch) branch fresh rosemary, plucked and chopped medium, or 1 teaspoon dry (crushed)
2 red bell peppers, about 6 ounces total, washed, cored, seeded, and cut into quarter-inch dice
3 pounds fresh tomatoes, peeled, and well crushed, or approximately the same amount canned
1 cup dry white wine
1 1/2 teaspoons sea salt
3/4 teaspoons freshly ground black pepper
1 teaspoon red pepper flakes, more if you like
Cooking Directions:
In a saucepan large enough to hold all the ingredients, heat the oil over high heat. When hot, add the garlic and cook until it is deep brown but not burnt. Add the meat, and cook until it just begins to change color. Add the rosemary, bay leaf, and red bell peppers. Continue to cook, stirring over low heat, for about ten minutes. Stir in tomatoes and cook sauce for about ten more minutes. Stir in wine, salt, pepper and red pepper flakes. Cook the ragù over low heat about 2 hours uncovered, stirring frequently, or until it is thick and heavily coats the back of a spoon and reduced to two quarts.
Use the sauce on pasta, rice, or potato dishes, on bruschetta, or as a main dish with bread and a hearty salad.
Makes about 2 quarts.
Recipe by Carlo Middione Chef/Owner, VIVANDE Port Via.
Recipe and photograph provided courtesy of the California Sheep Commission.