Crispy Potato Croutons with Grilled Marinated Lamb Chops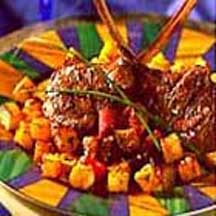 Marinated and grilled lamb chops are served atop a delectable eggplant salad with crispy-fried potato croutons.
Recipe Ingredients:
Lamb Chops:
12 lamb chops, cut 1 1/4 inches thick
3 tablespoon olive oil
1 teaspoon chopped thyme
1 tablespoon minced garlic
Kosher or sea salt and freshly ground black pepper, to taste

Eggplant Salad:
2 medium globe eggplant, cut into 1-inch-thick slices
1 medium red onion, cut into 1/2-inch wedges
3 tablespoon balsamic vinegar
1 tablespoon olive oil, plus additional for frying
Kosher or sea salt and freshly ground black pepper, to taste
1/2 pint cherry tomatoes
1 tablespoon roasted garlic paste

Potato Croutons:
3 Idaho potatoes, peeled and cubed (do not soak in water)
Kosher or sea salt and freshly ground black pepper, to taste

Garnish: Rosemary oil, drizzle Balsamic vinegar, drizzle 12 chives
Cooking Directions:
Toss lamb chops with 3 tablespoons olive oil, thyme, garlic and salt and pepper. Let marinate for 2 to 4 hours.
For Eggplant Salad: In bowl, toss eggplant, red onions, balsamic vinegar, 1 tablespoon olive oil, salt and pepper. Spread in single layer on sheet tray; roast at 400ºF (205ºC) until dark golden brown and tender. Remove and cool to room temperature.
Chop vegetables into 1-inch cubes and toss in bowl with cherry tomatoes and roasted garlic paste. Add salt and pepper to taste. Set aside at room temperature.
Grill lamb chops.
For Potato Croutons: While grilling lamb chops, heat 1/4-inch covering of olive oil in a skillet and cook the potatoes in skillet for approximately 5 minutes, tossing when bottoms are crisp and golden brown. Remove when all are tender, yet crisp, golden brown all around. Drain on paper towel. Season with salt and pepper.
To Serve: For each portion: place eggplant salad in center of plate with 2 lamb chops centered on top. Place potatoes around the salad and chops. Drizzle rosemary oil and balsamic vinegar on top of the potatoes. Garnish dish with chive sticks.
Makes 6 (2 chop) servings.
Nutritional Information Per Serving (1/4 of recipe): 639 calories; 29g fat (261 calories from fat); 64g protein; 28g carbohydrate; 192mg cholesterol; 233mg sodium (does not include optional ingredients)
Recipe provided courtesy Idaho Potato Commission. From the Indigo Restaurant, San Francisco, California, compliments of Chef John Gilbert.