Grilled Loin Chops with Eggplant Parmigiana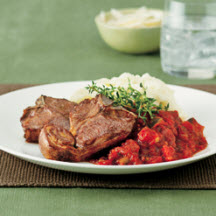 Recipe courtesy of the Meat and Livestock Australia.
Recipe Ingredients:
2 cups tomato pasta sauce
1 pound eggplant roughly chopped into 1-inch pieces
1/2 pound cherry tomatoes, halved
12 Australian Lamb loin chops
1 teaspoon olive oil
Salt and ground black pepper to taste
Prepared mashed potatoes or cooked pasta for accompaniment
Fresh Parmesan shavings (or grated) for garnish
Cooking Directions:
Place the tomato pasta sauce in a saucepan and add the chopped eggplant and tomatoes. Bring to the boil, reduce heat and simmer covered for 20 minutes or until the eggplant is tender.
Rub the lamb chops with oil and sprinkle with salt and black pepper.
Grill or broil 4 to 5 minutes on each side or until cooked to your liking.
Serve with mashed potatoes or pasta, garnished with Parmesan shavings.
Makes 4 servings.
Recipe and photograph courtesy of the Meat and Livestock Australia.