Herb-Crusted Lamb Cutlets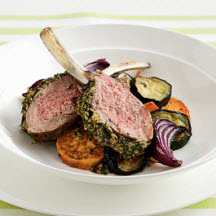 Recipe courtesy of the Meat and Livestock Australia.
Recipe Ingredients:
4x3 French-trimmed Australian lamb cutlet racks (about 1 1/2 pounds)
1/4 cup fresh wholewheat bread crumbs
1 tablespoon fresh rosemary, finely chopped
1 tablespoon fresh flat-leaf parsley, finely chopped
2 teaspoons fresh thyme, finely chopped
3 cloves garlic, crushed
3 teaspoons basil pesto
Cooking Directions:
Preheat oven to 400°F (205°C).
Combine bread crumbs, herbs, garlic and pesto in a bowl.
Press bread crumb mixture into lamb racks.
Place lamb in shallow baking dish and roast uncovered for approximately 20 to 25 minutes or until meat thermometer inserted into center of lamb registers 135°F (57.2°C) for medium rare.
Let lamb stand 5 minutes before cutting racks into cutlets.
Makes 4 servings.
Recipe and photograph courtesy of the Meat and Livestock Australia.