Leg of Lamb, Ale and Lemon Marinade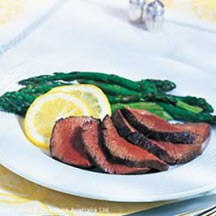 Recipe courtesy of the Meat and Livestock Australia.
Recipe Ingredients:
1 whole boneless leg of lamb, butterflied (about 5 pounds)
Ale and Lemon Marinade:
1 cup olive oil
5 cloves garlic, peeled and chopped
1 cup ale or beer
1/2 cup lemon juice
1 teaspoon dry mustard
1/2 cup soy sauce
2 teaspoons brown sugar
3 tablespoons Worcestershire sauce
1 teaspoon salt
2 teaspoons freshly ground black pepper
Cooking Directions:
(Prepared from boneless, netted leg of lamb.) Remove netting and roll/fold the leg open to make as flat as possible.
For Ale and Lemon Marinade: Combine marinade ingredients in a bowl.
Place lamb in a shallow bowl and pour marinade over. Cover with plastic wrap and marinate for 2 to 3 hours or overnight, turning the lamb from time to time.
Set up a covered gas or charcoal grill for indirect cooking.
Remove lamb from marinade and discard marinade.
Cook lamb for 45 minutes or until the internal temperature reaches 125°F (51.6°C) to 130°F (54.4°C) in the thickest part for medium rare. Thinner parts will be more done.
Remove from grill and let lamb rest for 10 to 15 minutes loosely covered with foil.
Cut into slices and serve.
Makes 6 servings.
Recipe and photograph courtesy of the Meat and Livestock Australia.