Leg of Lamb with Garlic and Rosemary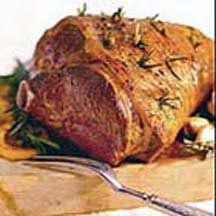 Perfectly roasted lamb will be crisp on the outside, tender and juicy on the inside. This simple recipe offers a classic flavor combination for seasoning lamb which has a slightly gamey, earthy flavor.
Recipe Ingredients:
1 leg of lamb, approximately 4 1/2 to 6 pounds
Half a lemon
2 to 3 cloves of garlic, sliced
Large handful of roughly chopped fresh rosemary
4 tablespoons olive oil
Kosher or sea salt and freshly ground black pepper
Cooking Directions:
With a sharp knife, make a number of incisions into the skin of the lamb and push 1 to 2 slivers of garlic into each incision. Squeeze the juice of the lemon over the lamb and then sprinkle with the chopped rosemary. Add the olive oil and rub in well, pushing some of the rosemary into the incisions with the garlic. Season with the salt and pepper before placing in a large zip-lock bag or loosely covered in a non metal container and leaving to marinate for at least an hour, or overnight if possible.
Roast the leg in a sturdy roasting pan in a preheated oven at 325°F (160°C). Allow 10 to12 minutes per pound plus an extra 20 minutes for pink meat, 13 to 14 minutes per pound plus 20 minutes for medium and 20 minutes per pound plus 20 minutes for well done.
Makes 4 to 6 servings.
* Most supermarkets can supply you with boneless legs of California lamb that can be flattened out into a "butterfly' shape piece that is ideal for grilling. Alternatively, your butcher will be able to butterfly a leg of lamb for you.
Tip: To grill a butterflied leg of lamb*, cook over medium hot coals for 20 to 25 minutes on each side, before slicing and serving.
Recipe and photograph provided courtesy of the California Sheep Commission.