Leg of Lamb with Roasted Red Pepper Sauce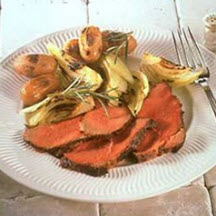 Recipe courtesy of the Meat and Livestock Australia.
Recipe Ingredients:
1 leg of lamb, boneless
1 teaspoon cayenne pepper
2 tablespoons finely chopped garlic
2 teaspoons kosher salt (plus more to taste)
10 tablespoons extra virgin olive oil - divided use
3 tablespoons lemon zest - divided use
6 tablespoons lemon juice - divided use
1 1/2 teaspoons chopped fresh rosemary
1 (18-ounce) jar roasted red peppers, drained (or use about 5 fresh red peppers, roasted)
Cooking Directions:
Combine the cayenne, garlic, 2 teaspoons of the salt, 1/2 cup of the olive oil, 1 tablespoon of the lemon zest, 1/4 cup of the lemon juice and 1 teaspoon of the rosemary. Pour over the lamb. Refrigerate lamb for 24 hours, turning every few hours to coat in marinade.
Place leg on a preheated grill and cover. After 15 minutes, remove the cover and turn. Cover again. Continue to turn meat every 15 minutes until it reaches an internal temperature of 140°F (60°C), about 35 to 45 minutes.
To make the roasted red pepper sauce, combine half of the roasted red peppers, the remaining 2 tablespoons olive oil, 2 tablespoons lemon zest, 2 tablespoons lemon juice and 1/2 teaspoon of rosemary in a blender. Blend until smooth. Fold in the remaining roasted red pepper. Season to taste with salt. Refrigerate until needed.
For each serving, slice lamb, place portion on a serving plate and top with 1/4 cup of chunky roasted red pepper sauce.
Makes 6 servings.
Recipe and photograph courtesy of the Meat and Livestock Australia.