Mediterranean Braised Shoulder Chops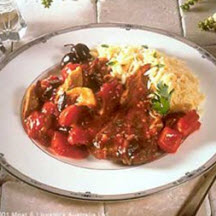 Recipe courtesy of the Meat and Livestock Australia.
Recipe Ingredients:
6 lamb shoulder chops
3 tablespoons olive oil
3 tablespoons finely chopped garlic
1 1/2 cups diced red bell peppers
6 cups canned tomatoes
1 1/2 cups sliced black olives
3 cups artichoke hearts, quartered
2 tablespoons chopped fresh oregano
Cooking Directions:
Heat olive oil in a large casserole dish. Brown shoulder chops on both sides and remove.
Add garlic and red peppers to pan and brown slightly. Add the canned tomatoes, olives and shoulder chops.
Bring liquid to a boil, then reduce to a simmer. Simmer for about 1 hour or until meat is tender.
Stir in artichoke hearts and oregano. Cook for an additional 10 minutes.
For each serving, place 1 chop with 3/4 cup sauce on a serving plate.
Makes 4 servings.
Recipe and photograph courtesy of the Meat and Livestock Australia.