Singapore Lamb Riblets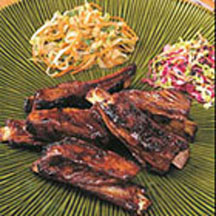 Succulent Asian-flavored lamb riblets served with an Asian broccoli slaw.
Recipe Ingredients:
5 pounds meaty lamb riblets
2 quarts water
1/3 cup soy sauce
1/4 cup tamarind concentrate
2 tablespoons soy sauce
2 tablespoons dry sherry
2 tablespoons honey
2 teaspoons sesame oil
1 teaspoon freshly grated ginger
1 teaspoon sambal oelek (fresh chili paste)
5 cloves crushed garlic
1/2 teaspoon five spice powder
Asian Slaw:
1/4 cup mayonnaise
1 1/2 teaspoons granulated sugar
1/2 teaspoon freshly grated ginger
1/2 teaspoon sesame oil
1/4 teaspoon salt
Pinch white pepper
3 cups prepared broccoli slaw or prepared coleslaw
Cooking Directions:
Place lamb ribs in large saucepan. Cover with water and the 1/3 cup soy sauce. Bring to a boil; reduce heat and simmer 10 minutes. Drain and let cool.
Preheat oven to 350°F (175°C). Cover baking sheet with aluminum foil. In medium bowl, mix remaining ingredients. Coat each rib with sauce; arrange on baking sheet. Roast 10 minutes. Reduce oven to 275°F (135°C). Baste with sauce. Roast 10 to 15 minutes longer or until tender.
Serve with Asian Slaw or your favorite coleslaw recipe.
For Asian Slaw: In large bowl mix mayonnaise, sugar, ginger, sesame oil, salt and pepper. Add vegetables; toss. Makes 6 (1/2 cup) servings.
Makes 6 servings.
Tips:
Ribs may be marinated in sauce 4 to 24 hours.
Tamarind, sambal oelek and five spice powder can be found in Asian sections of some supermarkets or in many Asian grocery stores.
Recipe and photograph provided courtesy of the California Sheep Commission.