Barilla Whole Grain Spaghetti with
Cherry Tomatoes and Basil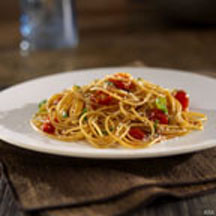 If you're ready for the challenge of eating healthy, try this mouth-watering, easy-to-make recipe.
Recipe Ingredients:
1 box Barilla Whole Grain Spaghetti
1 clove garlic, minced
2 teaspoons extra virgin olive oil
1 pint cherry tomatoes, halved
1/4 teaspoon salt
Freshly ground black pepper to taste
5 to 6 leaves basil, sliced into thin strips
1/2 cup freshly grated Parmigiano
Cooking Directions:
Cook pasta according to package directions.
Meanwhile, in a large skillet, sauté minced garlic in olive oil until slightly yellow.
Add cherry tomatoes and sauté 2 minutes. Season with salt and pepper, and remove from heat.
Drain pasta, reserving 1/2 cup of the cooking liquid.
Toss pasta with cherry tomatoes, garlic and half the basil. Add reserved cooking liquid to skillet and toss pasta again.
Top with Parmigiano, black pepper and remaining basil.
Makes 6 servings.
Nutritional Information Per Serving (1/6 of recipe): Calories: 284 Protein: 12 g Carbohydrate: 49 g Dietary Fiber: 7 g Total Sugars: 2 g Total Fat: 6 g Saturated Fat: 1.7 g Cholesterol: 7 mg Calcium: 96 mg Sodium: 229 mg.
Recipe and photograph provided courtesy of www.TryBarillaWholeGrain.com; through ARA Content.