Italian Vegetable Pizzas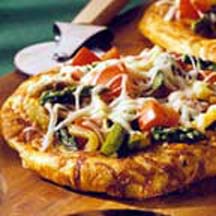 Ready-to-use Italian bread shells make these veggie pizzas a snap to assemble. Asiago (ah see AH go) cheese is a hard cheese with a sharp flavor. Look for it in large supermarkets or specialty shops.
Recipe Ingredients:
2 tablespoons Italian salad dressing
1/2 pound asparagus, cut into 2-inch pieces, or 1 (10-ounce) package frozen cut asparagus, thawed
1 medium yellow summer squash or zucchini, cut into julienne strips (1 1/2 cups)
1 cup sliced fresh mushrooms
3 (8-ounce) packages Boboli (total of six 6-inch Italian bread shells)
1/4 cup clear Italian salad dressing
1 ripe large tomato, seeded and chopped (1 cup)
1/4 teaspoon coarsely ground pepper
1 cup shredded mozzarella cheese (4 ounces)
1/3 cup finely shredded Asiago or Parmesan cheese
Cooking Directions:
In a medium skillet heat the 2 tablespoons Italian salad dressing. Add asparagus and summer squash or zucchini; cook and stir for 2 minutes. Add mushrooms; cook and stir 1 minute more.
Place bread shells on a lightly greased baking sheet. Brush bread shells with the 1/4 cup Italian salad dressing. Using a slotted spoon, top bread shells with the cooked asparagus mixture. Top with chopped tomato; sprinkle with pepper. Combine mozzarella cheese and Asiago or Parmesan cheese; sprinkle over pizzas.
Bake in a preheated 425°F (220°C) oven about 8 minutes or until cheese melts and pizzas are heated through. Cut the pizzas into wedges to serve.
Makes 6 individual pizzas.
Nutritional Information Per Serving (1/4 of recipe): calories: 249, total fat: 12g, saturated fat: 2g, cholesterol: 10mg, sodium: 427mg, carbohydrate: 27g, protein: 11g.
Recipe provided by Better Homes and Gardens - BHG.com a member of the Home and Family Network for the best of cooking, gardening, decorating and more. © 2003 Meredith Corporation. All Rights Reserved.