Linguine with Pesto, Tomato and Zucchini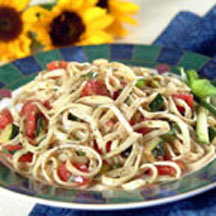 Serve this tasty pasta dish with warm crusty bread. Instead of having butter on your bread, try dipping it in extra virgin olive oil. Pour the olive oil onto bread plates for easy dipping.
Recipe Ingredients:
2 (9-ounce) packages BUITONI® Linguine
1 (7-ounce) package BUITONI® Pesto with Basil
1/4 cup extra virgin olive oil
4 cups diced zucchini
1 cup chopped onion
2 cloves garlic, minced
1 (28-ounce) can diced tomatoes in juice
1/3 cup thinly sliced fresh basil (optional)
2/3 cup freshly grated Parmesan cheese
Cooking Directions:
Prepare pasta according to package directions.
Heat oil in a large skillet. Add zucchini and onion; cook until zucchini is almost tender. Add garlic and tomatoes; reduce heat to low. Cook until juices evaporate.
Add pesto to hot pasta; toss to coat. Add zucchini mixture; stir to combine. Season with salt and ground black pepper. Top with basil and cheese.
Makes 6 servings.
Recipe and photograph are the property of Nestlé® and Meals.com, used with permission.