Mexican Lasagna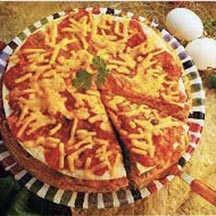 Flour tortillas take the place of traditional noodles, and wholesome eggs—an economical and excellent source of protein—boost the nutritional content of this South-of-the-Border version of lasagna.
Recipe Ingredients:
6 large eggs
2 tablespoons water
1/2 teaspoon chili powder
1/4 teaspoon ground cumin
Salt and ground black pepper to taste
5 (10-inch) flour tortillas
1 (15-ounce) can refried beans with green chilies - divided use
2 cups (8 ounces) shredded reduced-fat cheddar cheese - divided use
1/2 cup part-skim ricotta cheese
1 (12-ounce) jar tomato salsa - divided use
1 cup shredded zucchini
Cilantro sprigs (optional)
Cooking Directions:
In medium bowl, beat together eggs, water, chili powder, cumin, salt and pepper until well blended.
In 10-inch skillet over medium heat, melt butter. Pour in egg mixture. Cover and cook over low heat until eggs are almost set, about 7 to 9 minutes. Set aside.
Place a tortilla in bottom of lightly greased 9 or 10-inch springform pan. Spread with 1/2 of the beans and 1 cup of the cheddar cheese. Top with another tortilla, ricotta cheese, and 1/2 cup of the salsa. Top with another tortilla, the reserved cooked egg and 1/2 cup of the salsa. Top with another tortilla, the remaining beans, the zucchini, and 1/2 cup of the cheddar cheese. Top with the remaining tortilla.
Bake in preheated 350°F (175°C) oven 20 minutes. Remove from oven and top with remaining salsa and cheddar cheese. Bake 10 minutes more. Let stand 5 to 10 minutes. Remove rim of pan and cut into wedges to serve. Garnish with cilantro sprigs, if desired.
Makes 6 to 8 servings.
Recipe and photograph provided courtesy of the American Egg Board.