Ortega Vermicelli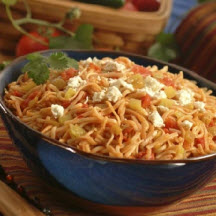 Dry pasta is lightly sautéed prior to cooking for a rich flavor. This is a great pasta dish with terrific Southwestern flavors your family will love.
Recipe Ingredients:
2 tablespoons vegetable oil
1 medium onion, chopped
3 cloves garlic, minced
8 ounces fideo (coil vermicelli pasta), broken into pieces
1 (14.5-ounce) can ready diced tomatoes, undrained
1 (14.5-ounce) can vegetable broth
1 (7-ounce) can ORTEGA® Diced Green Chiles
1/2 teaspoon salt
1/8 teaspoon ground black pepper
Crumbled cotija or feta cheese (optional)
Cooking Directions:
Heat vegetable oil in large skillet over medium-high heat. Add onion and garlic; cook, stirring occasionally, for 2 to 3 minutes or until onion is tender. Add pasta; cook, stirring constantly, for 1 to 2 minutes or until pasta starts to turn golden.
Stir in tomatoes with juice, broth, chiles, salt and ground black pepper. Bring to a boil. Reduce heat to low; cook, stirring occasionally, for 5 to 7 minutes or until liquid is absorbed. Sprinkle with cheese just before serving.
Makes 4 servings.
Recipe and photograph provided courtesy of Ortega and B&G Foods, Inc.