Peasant Pizza with Goat Cheese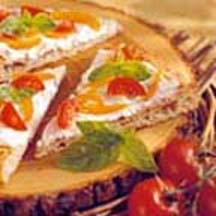 Using a small amount of goat cheese on this pizza adds a tangy flavor. Look for it in the specialty cheese section of the supermarket labeled "chevre" (pronounced SHEV), which means goat in French.
Recipe Ingredients:
1 (16-ounce) Italian bread shell (such as Boboli)
1 (3-ounce) package cream cheese
2 ounces semisoft goat cheese or feta cheese, crumbled (about 1/4 cup)
1 teaspoon dried basil, crushed or 2 tablespoons snipped fresh basil
1 clove garlic, minced
1/8 teaspoon ground black pepper
3 plum tomatoes, thinly sliced
1 small yellow, orange, or green sweet pepper, cut into thin bite-size strips
Cooking Directions:
Place the Italian bread shell on a baking sheet.
In a small mixing bowl stir together the cream cheese, goat cheese or feta cheese, dried basil (if using), garlic and black pepper. Spread over the bread shell. Place the tomato slices and sweet pepper strips over the cheese mixture.
Bake pizza in a 400°F (205°C) oven about 12 minutes or until heated through. Sprinkle with the fresh basil (if using). To serve, cut into wedges.
Makes 6 servings.
Recipe and photograph provided by Better Homes and Gardens - BHG.com a member of the Home and Family Network for the best of cooking, gardening, decorating and more. © 2003 Meredith Corporation. All Rights Reserved.