Potato Gnocchi with Tomatoes and Fresh Mozzarella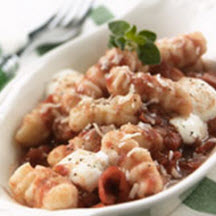 This is Italian comfort food—homemade potato gnocchi served with a tomato sauce and fresh mozzarella. Recipe created by Chef Thomas Catherall, C.M.C.
Recipe Ingredients:
Gnocchi:*
2 pounds russet baking potatoes, peeled and quartered
2 to 2 1/2 cups all-purpose flour
1 large egg, lightly beaten
Sauce:
2 tablespoons extra-virgin olive oil
10 medium tomatoes, peeled, seeded, and diced (or 1 1/2 [28 ounces each] cans Italian plum tomatoes, drained and chopped)
1/2 teaspoon dried oregano leaves
Large pinch crushed red pepper
2 tablespoons balsamic vinegar
1 tablespoon tomato paste
1/4 cup dry red wine
1 teaspoon granulated sugar
Salt, to taste
Freshly ground pepper, to taste
1 to 2 teaspoons red wine vinegar
6 ounces fresh mozzarella cheese, cut in 1/4-inch cubes
3/4 cup freshly grated Parmesan or Romano cheese
Cooking Directions:
For Gnocchi: Place the potatoes in a saucepan and add water just to the level of the potatoes. Salt the water. Bring to a boil and cook until very soft, 25 minutes. Drain well; let stand in the colander for 10 minutes.
Spread the flour on your work surface. With a potato ricer or food mill fit with a medium disk, rice the warm potatoes evenly over the entire top of the the flour. Toss together lightly with your fingers to distribute the potatoes and flour evenly. Make a well in the center and add the egg. Knead to form a ball. Knead 1 minute to gather up all of the bits of flour and potato on the work surface. Cover with an inverted bowl and let the dough rest for 5 minutes.
Divide the dough into 4 equal pieces. On a floured surface, roll each piece into a 1/2-inch-thick rope, approximately 12 inches long. Working with one rope at a time (keeping the others covered with towel), with floured hands, cut through the dough with the curved edge of a fork, every 1/2 inch. On the back edge of the fork, roll each piece forward and back, making fork indentations and shell shapes. Toss with the flour. Place on a floured baking sheet. Repeat with the remaining dough.
Heat salted water in large Dutch oven.
For Sauce: Heat the olive oil in large skillet over medium-high heat. Add the tomatoes, oregano, crushed red pepper, balsamic vinegar, tomato paste, wine, sugar, salt, and pepper. Cook for 3 to 4 minutes, until the liquid begins to evaporate and the sauce thickens slightly. Remove from the heat. Puree in a blender or food processor. Season to taste with salt, pepper, and red wine vinegar. Return to skillet.
To complete the recipe, bring salted water to a boil. Cook about half of the gnocchi until tender, 2 to 3 minutes. Remove with a slotted spoon. Repeat with the remaining gnocchi.
Add the cooked gnocchi to the sauce. Heat thoroughly. Toss in the mozzarella cheese. Sprinkle with grated cheese; serve immediately.
Makes 8 servings.
*Prepared gnocchi may be substituted for homemade.
Recipe and photograph provided courtesy of Wisconsin Milk Marketing Board, Inc.