Provençal Olive and Tomato Tart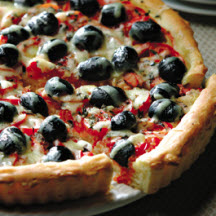 Recipe courtesy of California Ripe Olives.
Recipe Ingredients:
1/2 cup warm water
2 teaspoons active dry yeast
1/2 teaspoon granulated sugar
2 tablespoons olive oil
1 large egg
1 3/4 cups all purpose flour
3/4 teaspoon kosher salt
1 tablespoon Dijon mustard
1 pound Roma tomatoes, sliced into 1/8-inch thick rounds
1 cup California Ripe Olives, halved
2 teaspoons chopped thyme
1/4 teaspoon coarsely ground black pepper
1 cup grated Gruyère cheese
Cooking Directions:
In a large mixing bowl, whisk together warm water, yeast and sugar. Set aside for 5 minutes until mixture foams on top.
Mix in oil and egg. Add flour and 1/4 teaspoon salt. Knead together for about 5 to 8 minutes on a lightly floured surface until dough is smooth.
Place dough in an oiled bowl and cover loosely with plastic wrap. Set aside in a warm area for 1 hour until doubled in size.
Roll out dough into a 13-inch circle. Transfer to an 11-inch tart pan, allowing sides to hang over the edges. Press sides into tart pan, then roll a rolling pin, over the top of the tart pan to cut off overhanging edges of dough and discard.
Spread mustard onto the bottom of tart crust. Cover with concentric circles of sliced tomatoes. Sprinkle California Ripe Olives, thyme, pepper and remaining salt on top.
Bake in a 400°F (205°C) oven for 30 minutes. Cover with cheese and continue baking for 5 to 10 more minutes until melted and golden brown.
Makes 6 servings.
Nutritional Information Per Serving (1/6 of recipe): Calories: 234; Total Fat: 8g; Cholesterol: 35mg; Total Carbs: 34g; Fiber: 3g; Protein: 6g; Sodium: 248mg.
Recipe and photograph courtesy of California Ripe Olives.