Rigatoni Au Gratin with Asiago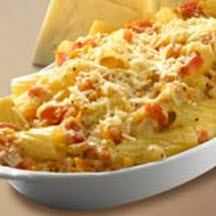 Rigatoni pasta and asiago cheese are combined with a herb-seasoned tomato cream sauce and baked. Recipe by Chef Philippe Schmit.
Recipe Ingredients:
1/4 cup olive oil
1/4 cup shallots, finely chopped
3 cloves garlic, finely chopped
1 carrot, finely chopped
2 pounds tomatoes, peeled, seeded and chopped
Bouquet garni*: 2 stems parsley, 4 stems thyme, 1 rosemary sprig and 1 bay leaf tied in cheesecloth
2 cups heavy cream
Salt and freshly-ground black pepper
12 ounces rigatoni, cooked (al dente)
2 cups (8 ounces) Wisconsin Asiago Cheese, grated - divided use
Cooking Directions:
Prepare a 2 1/2 to 3-quart gratin dish with vegetable spray. Set aside.
In large pot over medium heat add olive oil. Sauté shallots, garlic and carrot until tender.
Add tomatoes, bouquet garni and cream. Reduce heat. Simmer 30 minutes.
Remove bouquet garni.
Add salt and ground black pepper.
Combine tomato sauce, rigatoni and 1 1/4 cups of the Asiago.
Pour into prepared gratin dish. Top with remaining Asiago.
Bake in a preheated oven at 400°F (205°C) for 30 minutes.
Makes 6 to 8 servings.
*If you do not wish to use a bouquet garni, add 1 bay leaf and pinch of ground thyme and dried rosemary with cream. Remove bay leaf after simmering sauce. Garnish dish with finely-chopped parsley, if desired.
Recipe and photograph provided courtesy of Wisconsin Milk Marketing Board, Inc.