Spaghetti with Macadamia Pesto and Semi-Dried Tomatoes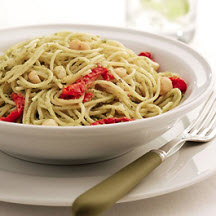 Recipe courtesy of Australian Macadamias.
Recipe Ingredients:
Macadamia Basil Pesto:
2 cups basil leaves, tightly packed
1 cup unsalted macadamias
3 cloves garlic, peeled
1/2 cup macadamia oil
1/4 cup freshly grated Parmesan cheese
1/2 teaspoon sea salt
Spaghetti:
8 ounces spaghetti
1/3 cup Macadamia Basil Pesto
1/4 to 1/3 cup semi-dried tomatoes
Salt and freshly cracked pepper
1/3 cup cream (optional)
Extra chopped toasted macadamias
Cooking Directions:
For Macadamia Basil Pesto: Make the pesto first. Wash and dry the leaves thoroughly. Put them in a food processor or blender with the macadamias and garlic and process until well combined. Scrape down sides and process again. Add the cheese and salt, process again, then slowly drizzle in the oil, keeping the machine running. Process until smooth. Scrape pesto into a tightly sealed jar or plastic container until ready to use - a film of macadamia oil over the top will help to preserve it. Store in refrigerator.
For Spaghetti: Cook the spaghetti in plenty of rapidly boiling salted water. Drain pasta, reserving 2 to 3 tablespoon pasta water.
Mix pesto with pasta water then toss with spaghetti until well combined. Add the cream for a smoother sauce. Toss with the semi-dried tomatoes and taste for seasoning. Top with a few extra chopped toasted macadamias and serve immediately.
Makes 6 servings.
Recipe and photograph courtesy of Australian Macadamias.