Swiss Chard and Ricotta Manicotti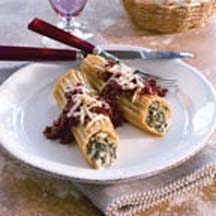 Carefully choosing nutritious ingredients, you can help reduce the risk for heart disease and obesity while still enjoying satisfying and delicious meals.
Recipe Ingredients:
Cooking spray
8 dried manicotti shells

Filling:
1 bunch Swiss chard (about 8 ounces)
1 teaspoon olive oil
1 medium onion, diced
2 medium garlic cloves, minced
1 cup low-fat ricotta cheese
1 large egg white
1/4 cup shredded or grated Parmesan cheese
1/4 teaspoon salt
1/8 teaspoon ground black pepper

Sauce:
3 large Italian plum tomatoes (about 1 pound), cored and cut into wedges
1/4 cup no-salt-added tomato paste
1/4 cup fresh basil leaves
1/8 teaspoon salt
1/8 teaspoon ground black pepper

Topping:
1/2 cup shredded part-skim mozzarella cheese
Cooking Directions:
Lightly spray a 13x9x2-inch glass baking dish with cooking spray. Set aside.
Prepare the pasta using the package directions, omitting the salt and oil. Drain well in a colander, being careful to not tear the shells. Set aside.
Meanwhile, discard the stems of the chard. Stack several leaves and cut crosswise into 1/2-inch slices. Repeat with the remaining leaves.
In a large nonstick skillet, heat the oil over medium-high heat, swirling to coat the bottom. Cook the onion and garlic for 3 minutes, or until soft, stirring occasionally. Stir in the chard. Cook for 3 minutes, or until the chard is wilted and the liquid has evaporated. Transfer to a medium bowl. Let cool slightly. Stir in the remaining filling ingredients.
Preheat the oven to 375°F (190°C).
In a food processor or blender, process the sauce ingredients for about 20 seconds, or until chunky (do not process until smooth). Pour 1 cup sauce into the baking dish, spreading to cover the bottom.
Gently spoon about 1/4 cup filling into a manicotti shell, being careful to not tear the shell. Transfer to the baking dish. Repeat with the remaining shells. Top with the sauce. Sprinkle with the mozzarella.
Bake, covered, for 15 minutes. Uncover and bake for 10 to 15 minutes, or until heated through.
Makes 4 servings; 2 filled shells per serving.
Nutritional Information Per Serving (1/4 of recipe): Calories 324; Total Fat 8.5 g; Saturated Fat 4.0 g; Trans Fat 0.0 g; Polyunsaturated Fat 0.5 g; Monounsaturated Fat 2.5 g; Cholesterol 28 mg; Sodium 606 mg; Carbohydrates 44 g; Fiber 5 g; Sugars 11 g; Protein 19 g.
Dietary Exchanges: 1 1/2 lean meat; 2 starch; 3 vegetable.
Tip: Take care to not overcook the manicotti shells. To make sure they don't get too soft and split, start checking them about 2 minutes before the package instructions say they should be ready.
Recipe and photograph reprinted with permission from Light & Easy Recipes, Copyright © 2008 by the American Heart Association. Published by Publications International, Ltd. Available at ShopHeart.com while supplies last; through ECES, Inc., Electronic Color Editorial Services.