Swiss Linguine Tart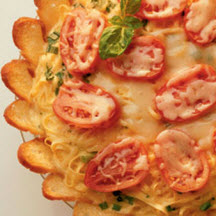 This delicious Swiss cheese and linguine tart was created by Chef Michael Hove.
Recipe Ingredients:
1/2 cup butter
2 garlic cloves, minced
30 paper-thin French bread slices
3 tablespoons all-purpose flour
1 teaspoon salt
1/4 teaspoon white pepper
Dash nutmeg
2 1/2 cups milk
1/4 cup (3/4 ounce) grated Wisconsin Parmesan cheese
2 large eggs, beaten
8 ounces fresh linguine, cooked, drained
2 cups (8 ounces) shredded Wisconsin Swiss cheese
1/3 cup green onion slices
2 tablespoons minced fresh basil
2 plum tomatoes
Cooking Directions:
Melt 1/4 cup butter. Add garlic; cook 1 minute.
Brush 10-inch pie plate with butter/garlic mixture; line bottom and sides with bread, allowing bread to come 1-inch over sides. Brush bread with remaining butter/garlic mixture.
Bake in a preheated oven at 400°F (205°C) for 5 minutes or until lightly browned. Set aside.
Melt remaining butter in saucepan over low heat. Blend in flour and seasonings. Gradually add milk, cook, stirring constantly, until thickened.
Remove from heat; add Parmesan cheese.
Stir small amount sauce into eggs; stir eggs into sauce. Pour over combined linguine, 1 1/4 cups Swiss cheese, green onion and basil; mix well. Pour into crust.
Cut each tomato lengthwise into eight slices; place on tart. Sprinkle with remaining Swiss cheese.
Bake in a preheated oven at 350°F (175°C) for 25 minutes or until warm. Let stand 5 minutes.
Makes 8 servings.
Recipe and photograph provided courtesy of Wisconsin Milk Marketing Board, Inc.