Thin Spaghetti with Pesto and Green Beans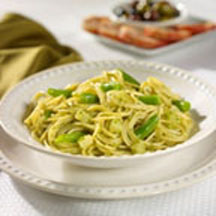 This unique and delicious pasta dish combines the goodness of whole grain spaghetti with a simple-to-make pesto sauce, fresh green beans and potatoes. Recipe created by By Chef Lorenzo Boni.
Recipe Ingredients:
1 (16-ounce) box Barilla Whole Grain Thin Spaghetti
1/2 clove garlic
2 tablespoons pine nuts
2 tablespoons Parmesan cheese, freshly grated
1 tablespoon Romano cheese, freshly grated
1 cup fresh basil leaves
1/3 cup extra virgin olive oil
Salt and ground black pepper, to taste
2 ounces fresh green beans
1/2 cup potato, small diced
Cooking Directions:
Cook pasta according to package directions. Bring second pot of water to boil.
Meanwhile, place garlic, pine nuts and cheese in blender, cover and blend for 15 seconds.
Add basil, olive oil, salt and pepper and continue blending for 2 minutes or until desired consistency had been reached.
Cut green beans into 1/2-inch pieces, stems removed, and cook in second pot of water for 3 minutes, then drain.
Add potatoes to boiling pot of pasta for last 5 minutes of cook time.
Drain pasta and potatoes and toss with pesto and green beans.
Makes 4 to 6 servings.
Recipe and photograph provided courtesy of Barilla America.