Three Cheese and Wild Mushroom Pizza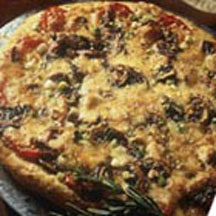 Stop by your local pizzeria for a pound of pizza dough to make this delicious wild mushroom and cheese pizza topped with fresh herbs and plum tomatoes.
Recipe Ingredients:
8 ounces wild mushrooms* (chanterelle, oyster, shiitake), sliced
1 tablespoon butter
1 pound pizza dough
1 tablespoon cornmeal
1 teaspoon olive oil
1/2 teaspoon coarsely ground black pepper
1 tablespoon chopped fresh herbs (rosemary, thyme, savory)
4 medium plum tomatoes, sliced
1 cup shredded fontina cheese
1/2 cup sliced green onion
1 cup smoked mozzarella cheese, cut into small cubes
1/4 cup freshly grated Parmesan cheese - divided use
Cooking Directions:
Preheat oven to 425°F (220°C).
In large skillet, sauté mushrooms in butter until softened, 3 to 4 minutes. Set aside.
Roll-out or stretch pizza dough to fit a 12-inch round pizza pan sprinkled with cornmeal. Drizzle one teaspoon oil over dough. Sprinkle dough with black pepper and herbs, pressing lightly into dough.
Arrange tomatoes in a single layer over dough. Sprinkle with Fontina cheese. Drain excess liquid from mushrooms and spoon them onto cheese. Sprinkle with onion. Scatter mozzarella cheese over pizza and top with two tablespoons Parmesan cheese.
Bake 15 to 20 minutes or until crust is golden. Remove from oven. Sprinkle with remaining Parmesan.
Makes 8 slices.
*Domestic white or brown mushrooms can be substituted for wild mushrooms.
Recipe and photograph provided courtesy of the American Dairy Association.