Tofu Manicotti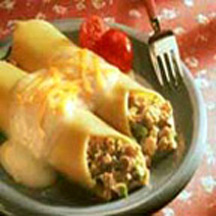 Tofu, low-fat cheese, and fat-free milk help make this Italian favorite low in fat and low in calories. To fill manicotti shells, use a small spoon to fill each shell with about 1/4 cup of the filling. The spoon should be smaller in diameter than the shell so you can fill the shell without tearing the pasta.
Recipe Ingredients:
8 manicotti shells
Nonstick spray coating
1/2 cup chopped fresh mushrooms
1/2 cup finely chopped onion
1 tablespoon snipped fresh parsley
1 teaspoon dried Italian seasoning, crushed
1/8 teaspoon paprika
10 ounces tofu (fresh bean curd), drained
1 slightly beaten egg white
2 tablespoons grated Parmesan cheese
1 1/4 cups fat-free milk
2 tablespoons all-purpose flour
1/8 teaspoon garlic powder
1/4 teaspoon salt
1/8 teaspoon ground black pepper
1/2 cup shredded low-fat cheddar cheese
Cooking Directions:
Cook pasta shells according to package directions. Rinse in cold water; drain.
Spray a medium skillet with nonstick spray coating. Add mushrooms and onion; cook until tender. Stir in parsley, Italian seasoning, and paprika. Cool slightly.
Mash the tofu in a bowl. Stir in egg white, Parmesan cheese, and mushroom and onion mixture. Stuff each manicotti shell with about 1/4 cup of the tofu mixture. Arrange stuffed shells in a 12x7x2-inch baking dish.
For sauce, in a medium saucepan combine milk, flour, garlic powder, salt, and pepper. Cook and stir until thickened and bubbly. Pour sauce over pasta in baking dish.
Bake, covered, in a preheated 350°F (175°C) oven for 20 to 25 minutes or until heated through. Sprinkle with cheddar cheese. Bake, uncovered, 2 minutes more or until cheese is melted.
Makes 4 servings.
Nutritional Information Per Serving (1/4 of recipe): calories: 285, total fat: 7g, cholesterol: 13mg, sodium: 347mg, carbohydrate: 36g, protein: 19g.
Recipe and photograph provided by Better Homes and Gardens - BHG.com a member of the Home and Family Network for the best of cooking, gardening, decorating and more. © 2003 Meredith Corporation. All Rights Reserved.