Vegetarian Shepherd's Pie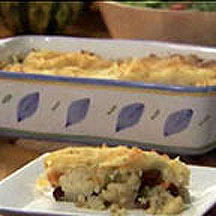 This is a hearty and pleasing meatless main dish.
Recipe Ingredients:
4 medium potatoes
1/2 cup milk
1/4 cup grated cheese of your choice
1 onion, chopped
1 clove garlic, minced
1 stick celery, chopped
1 leek, chopped
1 carrot, chopped
1 cup cauliflower florets
1 teaspoon Italian seasoning
1 (16-ounce) can beans, drained and rinsed
Cooking Directions:
Preheat the oven to 350°F (175°C).
Peel and cut potatoes. Cook in boiling water for 15 minutes or until tender and drain.
Pour milk over the potatoes and mash until smooth.
Stir in the grated cheese of your choice and season to taste.
Heat Bertolli Extra Virgin Olive Oil in a pan and add the onion, garlic, celery, leeks, carrots and cauliflower florets.
Saute all these veggies gently for 10 minutes if the pan dries out too much, add a little water from the boiling potatoes rather than more oil.
Next add a can of beans that you've drained and rinsed and add Italian seasoning.
Spoon the beans and vegetable mixture into an ovenproof dish top with the cheesy potato mash.
Sprinkle over with the top with another quarter cup of cheese.
Bake at 350°F (175°C) for 20 minutes until the topping is golden brown.
Makes 4 servings.
Recipe provided courtesy of HolidayKitchen.tv. Photograph property of CooksRecipes.com.