Buttery Pastry Crust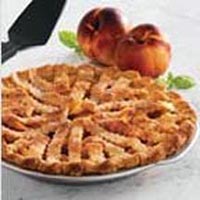 Keep it cold! The secret to pie crust is very cold ingredients. Refrigerate all ingredients prior to making the dough—even the mixing bowl. Put butter in the freezer while preparing the other ingredients to ensure the fat is completely chilled. AND skip the mixer! One of the biggest enemies of flaky pie crust is overworked dough. Use a pastry blender or two knives to cut in fat. Dough should still have some pea-size pieces.
Recipe Ingredients:
1 1/4 cups all-purpose flour
1/4 teaspoon salt
4 tablespoons cold butter
1/4 cup butter-flavor solid vegetable shortening
1/2 teaspoon cider vinegar
2 to 4 tablespoons ice cold water - divided use
Cooking Directions:
Combine flour and salt in large bowl; mix well. Cut butter and shortening into flour mixture using a pastry blender until butter and shortening resemble the size of small peas. Add vinegar and sprinkle 1 tablespoon water over flour mixture; gently toss with a fork. Repeat with remaining water until dough is moist enough to form into a ball.
Gather dough into a ball; flatten to 1/2-inch thickness. Cover; refrigerate dough 30 minutes. Roll out dough on lightly floured surface and use as desired.
Makes 1 (9-inch) single pie or tart crust; 8 servings.
Tip: This recipe can be easily doubled for a double-crust pie.
Nutritional Information Per Serving (1/8 crust): Calories 180, Total Fat 12 g, Saturated Fat 5 g, Cholesterol 15 mg, Carbohydrate 15 g, Protein 2 g, Sodium 115 mg, Fiber less than 1 g.
Recipe and photograph provided courtesy of PamperedChef.com; through ECES, Inc., Electronic Color Editorial Services.