Cherry Pie Bites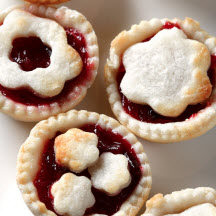 Orange juice and zest make these fun-sized cherry pies a refreshing, tangy dessert. With canola oil, these treats are better-for-you than traditional pies.
Recipe Ingredients:
Crust:
1/2 cup slivered almonds (skin on)
2 1/4 to 2 1/2 cups all-purpose flour
1/2 teaspoon salt
1/2 teaspoon baking powder
2/3 cup canola oil, chilled in freezer for 2 hours
1 large egg, beaten slightly
1/4 cup ice water
1/4 cup 1% milk
1 tablespoon vinegar
Canola oil spray
Cherry Filling:
4 cups frozen unsweetened tart cherries, thawed (drain off any extra juice)
1/2 cup orange juice
1 1/4 cups granulated sugar
1 1/4 tablespoon cornstarch
1 1/2 tablespoon fresh orange zest
Cooking Directions:
For Crust: In food processor, add almonds and pulse once or twice for coarsely ground consistency. Add flour, salt and baking powder. Pulse one or twice to combine ingredients. Add cold/frozen canola oil. Pulse again once or twice.
In small bowl, combine egg, water, milk and vinegar. With food processor running, pour liquid ingredients through feed tube. Turn off machine as soon as ingredients are mixed, about 10 seconds.
Remove dough and place on lightly floured surface. Knead ingredients 4 or 5 times to finish mixing. Divide dough in half, wrap in plastic wrap and refrigerate until ready to roll out.
For Filling: In saucepan, combine thawed cherries and orange juice over medium low-heat for about 8 minutes. In small bowl, completely combine sugar and cornstarch. Add sugar-cornstarch mixture and orange zest to cherries. Cook cherry mixture until it comes to rolling boil. Cook for 2 more minutes until well thickened. Cool cherry filling slightly.
Preheat oven to 425°F (220°C). Spray mini muffin tins with canola oil spray.
Roll chilled dough out on well-floured work surface. With 2 1/2-inch round cookie or biscuit cutter, with its edge dipped in flour, cut 24 rounds from dough. Roll out remaining dough and use it to cut small decorative pieces of dough to decorate top of pies.
Carefully fit 2 1/2-inch dough rounds into bottom of prepared mini muffin tin. Pat down bottom with excess coming up sides. Spoon about 1 tablespoon cooled cherry pie filling into each crust-lined cup. Carefully top each mini pie with decorative pieces of pie dough.
Bake for about 12 minutes or until edges are golden brown and filling is bubbly. Remove from oven and set on wire rack and cool completely, then remove from muffin tin and serve.
Makes 24 mini pies.
Nutritional Information Per Serving (1/24 of recipe; 1 mini pie): Calories: 170; Total Fat: 8g; Saturated Fat: 0.5g; Cholesterol: 10mg; Sodium: 60mg; Potassium: 88mg; Carbohydrates: 25g; Fiber: 0g; Sugar: 14g; Protein: 2g.
Recipe and photograph courtesy of CanolaInfo.