Pastry For Double-Crust Pie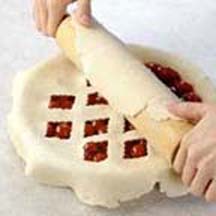 Nothing is as tempting as a homemade pie, complete with a tender, flaky crust.
Recipe Ingredients:
2 cups all-purpose flour
1/2 teaspoon salt
2/3 cup vegetable shortening
6 to 7 tablespoons cold water
Cooking Directions:
Stir together flour and salt. Using a pastry blender, cut in shortening until pieces are pea-size.
Sprinkle 1 tablespoon of the water over part of the mixture; gently toss with a fork. Push moistened dough to side of bowl. Repeat, using 1 tablespoon water at a time, until all the dough is moistened. Divide in half. Form each half into a ball.
On lightly floured surface, flatten 1 dough ball. Roll from center to edges into 12-inch circle.
To transfer pastry, wrap it around the rolling pin; unroll into a 9-inch pie plate. Ease pastry into pie plate, being careful not to stretch pastry. Transfer filling to pastry-lined pie plate. Trim pastry even with rim of pie plate.
Roll remaining dough into a circle about 12 inches in diameter. Cut slits to allow steam to escape. Place remaining pastry on filling; trim 1/2 inch beyond edge of plate. Fold top pastry under bottom pastry. Crimp edge as desired. Bake as directed in individual recipes.
Makes 8 servings.
Food processor directions: Prepare as above, except place steel blade in processor bowl. Add flour, shortening, and salt. Cover; process with on/off turns until most of mixture resembles cornmeal, but with a few larger pieces. With processor running, quickly add 1/4 cup water through feed tube. Stop processor when all water is added; scrape down sides. Process with 2 on/off turns (mixture may not all be moistened). Remove dough from bowl; shape into a ball. Divide in half. Continue as above.
Pastry for Lattice-Top Pie: Prepare as above, except trim bottom pastry to 1/2 inch beyond edge of pie plate. Roll out remaining pastry and cut into 1/2-inch-wide strips. Fill pastry-lined pie plate with desired filling. Weave strips over filling for lattice crust. Press ends of strips into crust rim. Fold bottom pastry over strips; seal and crimp edge. For a quick lattice, roll out top pastry. Use a mini-cookie or canape cutter to make cutouts an equal distance apart from pastry center to edge. Place pastry on filling and seal. Bake as directed.
Make-Ahead Tip: Prepare dough. Wrap in plastic wrap or place in plastic bag; seal. Refrigerate up to 24 hours. Allow to come to room temperature before rolling out for pie.
Nutritional Information Per Serving (1/8 of recipe): calories: 256, total fat: 17g, saturated fat: 4g, cholesterol: 0mg, sodium: 134mg, carbohydrate: 22g, fiber: 1g, protein: 3g, vitamin A: 0%, vitamin C: 0%, calcium: 0%, iron: 8%.
Recipe provided by Better Homes and Gardens - BHG.com a member of the Home and Family Network for the best of cooking, gardening, decorating and more. © 2003 Meredith Corporation. All Rights Reserved.