Mediterranean Tofu Flatbread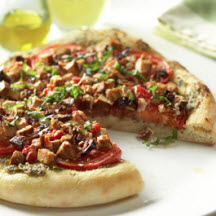 Recipe courtesy of The Soyfoods Council.
Recipe Ingredients:
1 (12-ounce) package Italian-flavored baked tofu, finely chopped
1/2 cup finely diced roasted red peppers
1/4 cup finely diced Kalamata olives
1/2 tablespoon dried oregano leaves
1/2 tablespoon finely grated Pecorino Romano
2 pounds prepared pizza dough
Cornmeal
1/2 cup basil pesto
4 to 6 large tomatoes, cut in 1/4-inch slices
Extra virgin olive oil for drizzling
1/4 cup chopped fresh basil
Cooking Directions:
Preheat oven to 450°F (230°C).
In medium bow, combine tofu, red peppers, olives, cheese and oregano.
Divide pizza dough in fourths and roll out each fourth to a 10 to 12-inch circle.
Sprinkle cornmeal over 4 large cookie sheets. Place pizza rounds on the cornmeal-covered cookie sheets.
Spread pesto on pizza dough. Then spread the tofu mixture evenly on the pizza rounds. Top with tomato slices, overlapping them to completely cover the tofu mixture.
Bake until crust is nicely browned and tomatoes have softened, about 20 minutes.
Remove from the oven, drizzle with extra virgin olive oil, top with basil, and serve immediately.
Makes 4 (10 to 12-inch) round flatbreads or about 8 servings.
Note: If you do not have two ovens, you can bake the pizzas two at a time, or divide the recipe in half.
Recipe and photograph courtesy of The Soyfoods Council.