Oliveto Pizza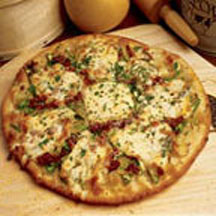 This gourmet pizza recipe, topped with spring garlic, asparagus, red potatoes, baby pancetta, fresh thyme, red pepper flakes and brick cheese, was created by Chef Curt Clingman.
Recipe Ingredients:
Dough:
1 (0.25-ounce) package active dry yeast or 2 1/4 teaspoons
1/4 cup warm water (110°F to 115°F | 40°C to 45°C)
2 1/2 cups all-purpose flour
1 teaspoon salt
2 tablespoon olive oil
1/2 cup warm water
Topping:
3 spring garlic (up to 6 inches) slit and sliced fine
5 stalks asparagus, thinly sliced
3 small red potatoes, thinly sliced
3 ounces baby pancetta, julienned, sautéed over low heat and drained on paper towels
7 ounces Wisconsin Surface-Ripened Brick cheese, cut into slices
1 tablespoon fresh thyme (or 1 teaspoon dried)
1 tablespoon red pepper flakes
Salt and ground black pepper to taste
Cooking Directions:
To Make Dough: Dissolve yeast in warm water and stir to combine. Set aside for 5 minutes. In a mixing bowl, combine the flour and salt. Add olive oil to yeast/water mixture; add to the flour and slat. Stir well. Add the additional 1/2 cup of water, mix and knead the dough until smooth and satiny, about 8 minutes (a bit less if using an electric mixer). Turn dough out of mixing bowl onto work surface and knead for an additional minute. Place dough in a lightly oiled bowl. Turn dough to coat surface. Cover bowl with plastic wrap and kitchen towel and let rise until double in bulk, about 1 1/2 hours.
After dough is doubled in bulk, punch down, form into a ball, brush the top with oil, cover with a towel and allow to rise for one hour. After second rise, roll or stretch dough into a circle 12 to 13 inches in diameter and almost 1/4 inch thick.
To Assemble Pizza: Top the dough with the following ingredients in this order: garlic, asparagus, potatoes, baby pancetta, Brick, thyme, red pepper flakes, and salt and pepper. Just before baking, drizzle toppings with a small amount of olive oil.
Bake pizza on lower rack of preheated 475°F (245°C) oven for 12 to 15 minutes or until golden brown.
Makes 4 servings.
Recipe and photograph provided courtesy of Wisconsin Milk Marketing Board, Inc.