Sausage Pizza with Onion "Confit"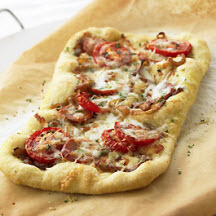 This savory andouille sausage pizza, with an onion confit, sun-dried tomatoes, mozzarella and Parmesan cheeses, was created by Chef Jan Birnbaum.
Recipe Ingredients:
Onion Confit:
1/4 cup extra-virgin olive oil
3 medium yellow onions, peeled, sliced 1/4-inch thick
1/2 cup white wine vinegar
2 tablespoons white wine
1/2 tablespoon kosher salt
Pinch of granulated sugar
Pizza:
1 pound prepared pizza dough or 1 (12 to 14-inch) pre-baked pizza crust
Extra-virgin olive oil, for brushing crust
3/4 cup shredded fontina cheese
3/4 cup sun-dried tomatoes in garlic-herbed olive oil, patted dry, sliced or cut in chunks
4 ounces andouille sausage links, sliced 1/4-inch thick
3/4 cup shredded mozzarella cheese
2 tablespoons grated Parmesan cheese
2 tablespoons chopped flat-leaf parsley
Cooking Directions:
For the onion confit, heat the olive oil over medium heat in a heavy-bottomed saucepan. Add the onions, stirring to coat with the oil and separate into rings. Cook until soft over low heat, 5 to 8 minutes.
Add the vinegar, wine, salt, and sugar. Stir; bring to a boil. Place the lid on the pan slightly askew; lower the heat to simmer and cook for 30 minutes, stirring occasionally.
Remove the lid, keeping at a simmer, and continue cooking 30 additional minutes, or until the onions are very soft and the liquid is reduced. Do not brown or scorch. Remove from the heat; set aside.
For the pizza, preheat the oven to 425°F (220°C). If using a pizza stone, place the stone in a cold oven and preheat.
If using dough, roll into a 12 to 14-inch circle or a rectangle. Place on a baking sheet to transfer to the stone, or on a pizza pan. Brush the edges of the dough with olive oil. Spread the onion confit over the dough or prepared crust, leaving a 1/2-inch bare edge. Sprinkle with the fontina. Sprinkle the tomatoes and andouille rounds evenly over the fontina. Sprinkle the mozzarella over the whole pizza. Slide onto the pizza stone or place the baking pan in the oven.
Bake the pizza about 10 minutes, or until golden brown. Sprinkle the hot pizza with Parmesan and parsley.
Makes 8 servings.
Recipe and photograph provided courtesy of Wisconsin Milk Marketing Board, Inc.