Seafood Pizza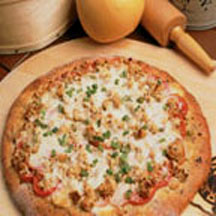 This seafood pizza features a crust infused with fresh basil, sun-dried tomato and Parmesan cheese topped with fresh black cod and albacore tuna, plum tomatoes and provolone cheese. Recipe by Chef Chef Phil Anderson.
Recipe Ingredients:
Dough:
1 (0.25-ounce) package active dry yeast or 2 1/4 teaspoons
1 cup warm water (105°F to 115°F | 40°C to 45°C)
1 teaspoon granulated sugar
2 tablespoons olive oil - divided use
1 1/3 cups semolina flour
1 cup unbleached all-purpose flour
1 teaspoon salt
1 tablespoon grated Wisconsin Parmesan cheese
2 tablespoons chopped fresh basil
2 tablespoon chopped sun-dried tomatoes
Toppings:
1/4 pound fresh black cod
1/4 pound fresh albacore tuna
1 tablespoon lemon juice
1/2 teaspoon Italian seasoning
1 cup slice plum tomatoes
1 1/2 cups shredded Wisconsin Provolone
Cooking Directions:
To Make Dough: In mixing bowl, dissolve yeast and sugar in warm water. Let sit for about 5 minutes until it foams. Add olive oil, both flours, salt, Parmesan cheese, basil and sun-dried tomatoes, and combine well. When ingredients are well combines, remove dough from bowl and knead it vigorously on a floured work surface for about 10 minutes or until it is smooth and elastic. Place dough in a large bowl that is coated lightly with 1 tablespoon olive oil. Cover bowl with plastic wrap and a kitchen towel and let rise for about one hour until double in bulk.
Punch down dough, turn it out onto work surface and knead for about 2 minutes. Stretch or roll dough into a circle 13 to 14 inches in diameter and about 1/8 inch thick. Prick entire surface of dough with times of a fork.
Bake dough in a preheated 450°F (230°C) oven for about 4 minutes. Remove parbaked shell from the oven, let cool for a few minutes (push down any dough bubble by hand). Brush top of the crust with olive oil (about 1 tablespoon).
To Prepare Toppings: In a skillet or sauté pan, sauté cod and tuna over medium heat until cooked through. Add lemon juice and Italian seasoning.
To Assemble Pizza: Top pizza crust first with sliced tomatoes, then seafood, then cheese.
Place pizza in a preheated 500°F (260°C) oven and bake for 8 to 10 minutes until dough is browned and crisp and the cheese is golden and bubbly. Serve at once.
Makes 4 servings.
Recipe and photograph provided courtesy of Wisconsin Milk Marketing Board, Inc.