Thai Pork Pizza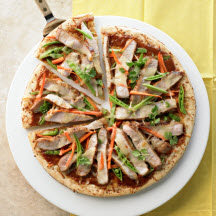 Recipe provided courtesy of Pork, Be Inspired®.
Recipe Ingredients:
2 boneless pork chops, 3/4-inch thick
2 teaspoons vegetable oil
1 (15-ounce) package pre-baked pizza crust (such as Boboli)
1/2 cup Thai peanut sauce
1 cup mozzarella cheese, shredded
1/2 cup pea pods, thinly sliced
1/4 cup carrots, shredded
cilantro leaves, chopped, if desired
Cooking Directions:
Preheat the oven to 425°F (220°C).
Place the pizza crust on a baking sheet. Spread the peanut sauce onto the crust. Sprinkle with pea pods and carrots.
Heat the oil in a nonstick skillet and heat over medium-high heat. Sprinkle the pork chops with salt and pepper. Add the pork chops to the skillet and cook 4 minutes until browned and internal temperature reaches 145°F (162.7°C), followed by a 3 minute rest time. Cut into thin slices. Arrange on the pizza crust. Cover with cheese.
Bake 12 to 14 minutes or until the cheese is melted and bubbly. Let stand 5 minutes before slicing. Sprinkle with chopped cilantro if desired.
Makes 4 servings.
Tip: Use 1 1/2 cups leftover cubed cooked pork instead of pork chops.
Nutritional Information Per Serving (1/4 of recipe): Calories: 520 calories; Protein: 30 grams; Fat: 21 grams; Sodium: 1260 milligrams; Cholesterol: 50 milligrams; Saturated Fat: 8 grams; Carbohydrates: 53 grams; Fiber: 3 grams.
Recipe and photograph provided courtesy of Pork, Be Inspired®.