The New "Full House" Pizza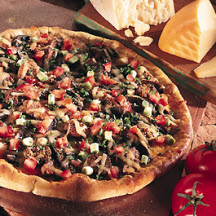 This pizza has a full house of toppings, grilled portobello mushrooms, chorizo sausage, duck breast, roasted garlic, tomatoes and seasonings. Recipe by Chef Darrell Janis.
Recipe Ingredients:
2 Portobello mushroom caps, sliced
Olive oil
1 (19-ounce) pizza dough ball
2 1/2 ounces Wisconsin Whole-Milk Mozzarella cheese, shredded
2 1/2 ounces Wisconsin smoked Gouda cheese, shredded
3 ounces precooked chorizo sausage, sliced
2 to 3 ounces duck breast tenders, cut into thin strips and sautéed
Grated Wisconsin Romano cheese
3 to 4 teaspoons roasted garlic
1/4 teaspoon chorizo seasoning (cayenne pepper, garlic powder, paprika)
Ground black pepper
chopped fresh parsley, green onions and diced tomatoes
Cooking Directions:
Brush mushroom slices with olive oil; grill 2 minutes on each side.
Hand stretch dough to 16 inches; drizzle with olive oil. Top with mozzarella, Gouda, mushrooms, chorizo, duck, Romano, chorizo seasoning and pepper.
Bake in a preheated oven at 550°F (285°C) in deck oven for 7 to 10 minutes.
Garnish with parsley, green onions and tomatoes.
Makes 6 servings.
Recipe and photograph provided courtesy of Wisconsin Milk Marketing Board, Inc.