Veggie Pizza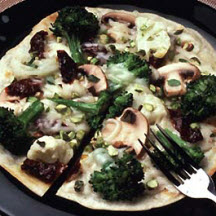 Recipe courtesy of California Pistachio Commission.
Recipe Ingredients:
1 (8-inch) flour tortilla
1/4 cup broccoli florets
1/4 cup cauliflower florets
1 medium mushroom, sliced
1/4 cup coarsely chopped pistachios
1 tablespoon chopped fresh oregano or 1/2 tsp. dried oregano
2 tablespoons sun-dried tomatoes (not oil-packed)
1/4 cup shredded part-skim mozzarella or ricotta cheese
Cooking Directions:
Pierce tortilla several times with fork. Place between 2 sheets of white paper towels. In microwave, cook on HIGH 1 to 1 1/2 minutes, or until tortilla is barely crisp, set aside.
Place 2 connected paper towels on counter. Place broccoli, cauliflower and sliced mushroom directly over perforation in center. Fold over both sides, then the ends to enclose vegetables. Place on microwave-safe plate, perforated side up. Pour 1/4 cup water over towel to moisten. Cook on HIGH 2 minutes.
Carefully pull open perforation; arrange vegetables on tortilla. Sprinkle top with tomatoes, pistachios, oregano and cheese.
Return pizza to microwave; cook on HIGH 45 to 60 seconds or just until cheese melts. Serve immediately.
Makes 1 serving.
Nutritional Information Per Serving (1 recipe): Calories: 390; Total Fat: 22g; Saturated Fat: 5g; Cholesterol: 15mg; Total Carbs: 34g; Fiber: 6g; Protein: 19g; Sodium: 570mg; Potassium: 840mg.
Recipe and photograph courtesy of California Pistachio Commission.