Baked Ham with Brown Sugar Glaze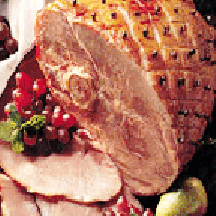 Perfect for any gathering, glazed baked ham is the centerpiece of a holiday feast, elegant brunch or birthday dinner.
Recipe Ingredients:
6 to 8 pounds fully cooked smoked bone-in ham
Whole cloves, if desired
1 cup packed brown sugar
1 tablespoon balsamic or cider vinegar
1/2 teaspoon ground mustard
Orange slice, if desired
Maraschino cherry, if desired
Cooking Directions:
Preheat oven to 325°F (160°C).
Place ham, fat side up, on rack in shallow roasting pan. Insert meat thermometer so tip is in thickest part of ham and does not touch bone or rest in fat. Cover loosely and bake 1 1/4 to 2 1/4 hours or until thermometer reads 135°F (13 to 17 minutes per pound).
About 20 minutes before ham is done, remove from oven. Pour drippings from pan. Remove any skin from ham. Cut uniform diamond shapes on fat surface of ham. Insert clove into each diamond. Stir together brown sugar, vinegar and mustard; pat or brush on ham. Bake uncovered 20 minutes longer.
Cover ham and let stand about 10 minutes or until thermometer reads 140°F (60°C). Garnish with orange slices and cherries.
Makes 12 servings.
Tip: This ham is perfect for sandwiches, and you can save the bone for making soup!
Nutritional Information Per Serving (1/12 of recipe): Calories 205 (Calories from Fat 55 ); Total Fat 6 g (Saturated Fat 2 g); Cholesterol 55 mg; Sodium 1320 mg; Total Carbohydrate 15 g (Dietary Fiber 0g); Protein 23 g Percent Daily Value*: Vitamin A 0%; Vitamin C 0%; Calcium 2 %; Iron 10 % Exchanges: 1 Fruit; 3 Lean Meat
*Percent Daily Values are based on a 2,000 calorie diet.
Recipe and photograph are provided courtesy of Betty Crocker Kitchens and General Mills.