Baked Ham with Mojo Sauce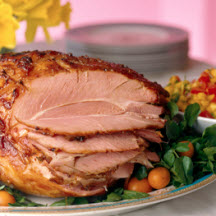 Shake up the traditional holiday menu. Experiment with your ham this holiday by adding a tropical twist to your traditional recipe.
Recipe Ingredients:
Mojo Sauce:
16 cloves garlic, thinly sliced lengthwise
1 cup finely slivered onion
1 teaspoon ground cumin
1 cup extra-virgin olive oil
2 cup fresh orange juice (from 3 or 4 oranges)
1/2 cup fresh lime juice (from 2 or 3 limes)
2 tablespoons white wine vinegar
Salt and freshly ground black pepper, to taste
Ham:
1 bone-in ready-to-eat ham (about 14 to 16 pounds)
About 16 whole cloves
2 to 4 tablespoons Dijon mustard
1/4 cup (packed) brown sugar
1 1/2 cups dry white wine
Papaya Salsa:
2 ripe papayas (about 1 pound each)
2 ripe plum tomatoes, seeded and cut into 1/4-inch dice
1 tablespoon seeded, finely chopped jalapeño pepper
1/3 cup finely chopped red onion
1/4 cup chopped fresh cilantro or flat-leaf parsley
Finely grated zest of 2 limes
1/3 cup fresh lime juice
Cooking Directions:
For Mojo Sauce: Prepare Mojo Sauce ahead of time. Set aside 2 cups of the sauce for serving. In a medium bowl, combine garlic, onion, cumin, and salt and pepper. Heat the olive oil in a medium saucepan over low heat. Add the onion mixture and cook, stirring, until softened, about 10 minutes. Add the orange juice, lime juice and vinegar and cook another 5 minutes for the flavors to blend. Cool to room temperature. Makes 4 cups.
For Ham: Preheat the oven to 350°F (175°C). Place ham in shallow roasting pan; score a diamond pattern about 1/8-inch thick into the upper surface of the ham. Insert a clove at the crossed points of the diamonds.
Brush the ham with the mustard and sprinkle it with the brown sugar. Pour 1 cup of the Mojo Sauce over the top. Bake in the center of the heated oven for 2 hours or until an instant-read thermometer inserted in the thickest portion (not touching bone) registers 140°F (60°C) (about 15 to 18 minutes per pound), basting every 20 to 30 minutes, alternating with 1/4 cup each white wine and remaining Mojo Sauce.
Transfer ham to platter. Let stand 15 minutes; slice and serve with the reserved 2 cups of Mojo Sauce and Papaya Salsa.
For Papaya Salsa: Peel and seed the papaya and cut it into 1/4-inch dice. Place in a medium-size bowl. Gently fold the tomatoes, jalapeño, red onion, cilantro and lime zest into the papaya. Toss in the lime juice. Refrigerate, covered, until ready to use, no longer than 4 hours. Makes about 4 cups.
Makes 8 servings.
Nutritional Information Per Serving (1/8 of recipe): Calories 420 calories Protein 29 grams Fat 29 grams Sodium 1580 milligrams Cholesterol 80 milligrams Saturated Fat 9 grams Carbohydrate 10 grams Fiber 1 grams.
Recipe and photograph provided courtesy of National Pork Board.