Baked Ham with Sweet Mango and Ginger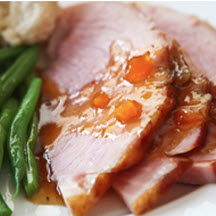 A tropical glaze gives baked ham a vibrant twist. Serve with snap peas and Garlic Rosemary Mashed Potatoes.
Recipe Ingredients:
6 to 7 pounds bone-in ham, with natural juices
1 to 2 cups mango nectar, or juice
1 1/2 cups mango jam, or apricot jam
3/4 cup light brown sugar, firmly packed
1 1/2 teaspoons fresh gingerroot, finely grated
1/2 teaspoon cloves
Cooking Directions:
Let the ham stand at room temperature for 90 minutes.
Preheat oven to 275°F (135°C). Set the rack at the lowest position. Rinse and pat dry the ham. Using a sharp knife, score the skin of the ham in a criss-cross pattern. Place ham on oven-safe skillet with high sides or a large pot or Dutch Oven. Pour the mango juice into the pan, and add additional water if necessary to bring the liquid level to 1/2 inch. Cover the pan tightly with tin foil. Roast in oven for 1 1/2 to 2 hours (about 15 minutes per pound) or until the internal temperature of the ham reaches 100°F (40°C).
While the ham is cooking, prepare the glaze. Combine the mango jam, brown sugar, gingerroot and cloves in a small sauce pot and cook over low heat until the glaze is thick and sticky. Turn off heat and set aside
Take the ham out of the over when it reaches the first internal temperature of 100°F (40°C). Turn the oven to 425°F (220°C). Brush the ham with about 1/4 of the glaze all over. You should have some mango juice in the pan, if not, add additional mango juice or water to reach 1/4 inch. Once the oven comes to temperature, return the ham, uncovered to oven. Bake for 15 minutes until the liquid is bubbly and the ham has turned to a nice, deep golden brown. The internal temperature of the ham should be 140°F (60°C).
Remove ham to a cutting board and let rest for 15 minutes. Return the remaining glaze to the stove on medium-low heat. Your roasting pan should have some mango juice left - carefully pour about 1/2 cup of the mango pan juice into the glaze. Whisk and adjust with either more juice or mango jam to create a beautiful, slightly thick glaze for serving.
Carve the ham and serve with the Mango-Ginger Glaze.
Makes 12 to 14 servings.
Tip: The choice of pan is important; you want the ham to fit snugly in the pan, with about 2-inches of space all around. For a 6 to 7 pound ham, use an oven-safe 12-inch skillet or sauté pan with high sides, as roasting pans can be too big. You can also use a large pot or Dutch oven.
Nutritional Information Per Serving (1/12 of recipe): Calories: 400 calories; Protein: 41 grams; Fat: 8 grams; Sodium: 2450 milligrams; Cholesterol: 130 milligrams; Saturated Fat: 2 grams; Carbohydrates: 45 grams; Fiber: 0 grams.
Recipe and photograph provided courtesy of Pork, Be Inspired.