Chili Rubbed Pork Tenderloin with
an Apricot Ginger Glaze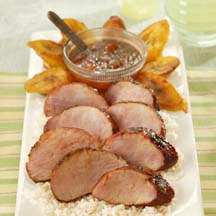 Serve this flavorful glazed tenderloin with slaw with vinaigrette, grilled potatoes and seasonal fresh fruit. Prepare the dry rub in advance and store in a cool dry place in an airtight container. The apricot glaze can also be made ahead of time and refrigerated until your are ready to use.
Recipe Ingredients:
2 pork tenderloins (about 2 pounds total), trimmed
Rub:
1/4 cup chili power
1/4 cup garlic powder
2 tablespoons sugar
1 tablespoon salt
1 tablespoon course black pepper
Glaze:
1 1/2 cups apricot preserves
1/2 cup barbecue sauce
1 teaspoon grated ginger
1/2 teaspoon garlic powder
1/2 teaspoon hot sauce
1 tablespoon chopped cilantro
Juice of 1 lime
Cooking Directions:
For Rub: Place the chili powder, 1/4 cup garlic powder, sugar and salt in a jar; shake to blend. Rub about 1/4 of spice mixture onto pork tenderloins. The remaining spice mixture can be stored for later use. Cover tenderloins and refrigerate for 2 to 24 hours.
For Glaze: Prior to grilling, melt apricot preserves in saucepan over medium heat. Remove pan from the heat and stir in barbecue sauce, ginger, 1/2 teaspoon garlic powder, hot sauce, cilantro and lime juice. Place half of the glaze in a serving bowl and hold for service.
Prepare grill at medium-high heat. Grill pork tenderloins for 15 to 20 minutes, or until the internal temperature of the pork reaches between 155°F to 160°F (approximately 65°C to 70°C).
When approximately 4 minutes of cook time remains, brush the pork tenderloins with the apricot glaze remaining in the pan. Cook for 2 minutes, turn the pork tenderloins and brush glaze on other side. Cook for an additional 2 minutes.
Remove pork from the grill and let set for 10 minutes before slicing. Serve with reserved glaze.
Makes 4 servings.
Nutritional Information Per Serving (1/4 of recipe): Calories 400 calories Protein 48 grams Fat 8 grams Sodium 660 milligrams Cholesterol 145 milligrams Saturated Fat 3 grams Carbohydrates 32 grams Fiber 0 grams.
Recipe and photograph provided courtesy of National Pork Board.